With the steady and rapid development of the economy and the increasing demand for electricity, the grid planning, survey, design, construction and follow-up operation, management, maintenance as well as analysis for decision making become very important. Airborne Lidar technology is the optimum choice in virtue of its fast acquisition of high-precision laser point clouds and high-resolution digital images, which provide faster, more efficient and better scientific means for the design, operation, maintenance, management of power grid.
► Technology and Advantages
♦ Main Technology
As new generation of remote sensing technology, airborne Lidar technology integrates Laser Range Finder (Laser Scanner), Global Positioning System (GPS) and Inertial Navigation System (INS). It quickly acquires high-precision three-dimensional spatial information of the target and penetrates the vegetation to obtain the topographic information under the forest. It has become the main method of power line survey.
♦ Advantages
Compared with traditional photogrammetry technology, airborne Lidar technology is of high accuracy with abundant information and its processing is highly automatic, which greatly improve the efficiency by saving manpower, materials and financial resources. It can acquire the three-dimensional coordinates of the target directly and quickly display the results in three- dimensions. The profile of the survey area can be easily acquired and the field work can also be reduced greatly. It makes the power line survey more efficient and scientific.
► Our Service
Project management. Aircraft and equipment supply
Flight planning, flight line design
Data collection, algorithm, processing, analysis
► Case: Power Transmission Line Patrol with Lidar
Entrusted by the customer, our company has applied LiDAR technology to patrol the built high-level voltage transmission lines and provided the laser scanning data processing service, which can solve the spatial positioning and measurement accuracy issue. The high-resolution aerial images and high-precision three-dimensional laser point cloud are directly used to build the model in software, through which existing defects and potential dangers can be detected timely and provide reliable technical support for grid operation and maintenance, ensuring the smooth operation. From 2017, more than 20,000 miles of transmission line has been covered.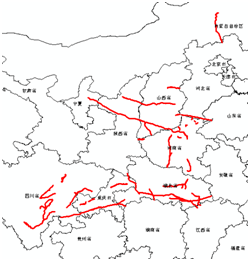 General Location of the Power lines
► Data Collection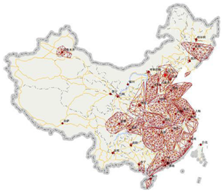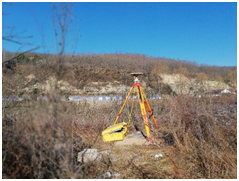 CORS Location Ground GPS station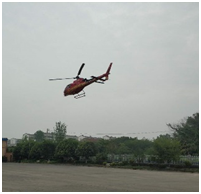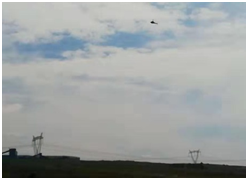 On site Operation

On site Operation
► Data Processing
♦ POS Algorithm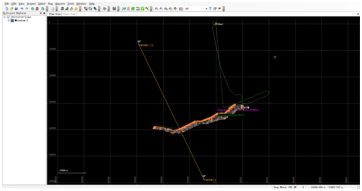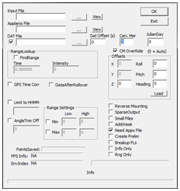 Algorithm in the Software
♦ Fine point cloud classification
Combining manual and automatic methods, further classification will be carried out especially to pipeline and related facilities, including substations, conductors, towers, crossover lines, ground lines (optical cables), insulators and leading wire.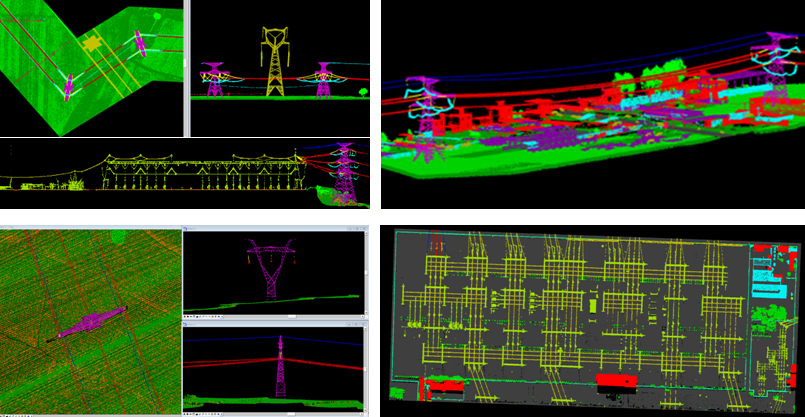 Fine point cloud classification
♦ DEM generation
Based on the data acquired, some features with precise elevation information, such as road, river boundary, body of water (lake, reservoirs, pond etc.) can be selected as reference in the process of DEM generation.

Digital Elevation Model(DEM) DEM Matched With Power Line Laser Points
♦DOM Generation


Digital Ortho photo Map (DOM)
►Data Analysis
♦patial Distance Measurement
Based on high-precision and high-density point clouds, safety analysis of the transmission line can be carried out by measuring the distance between classified point clouds, finding out the existing dangers and potential safety hazards.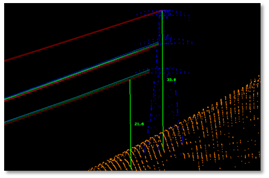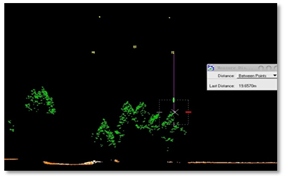 Conductor's Distance above the Ground Conductor's Distance to Vegetation
♦Profile Drawing

►Project Acceptance
Our Quality Inspection Department supervises and controls the whole process of the project to ensure the implementation of the Quality System and the standardization of the operation process. Quality Inspection Report from government has been issued after the project. All deliverables of the project meet customer's requirements and project acceptance has completed.
►

Case: Surveying for site selection of Wind Farm
Our company has completed site survey of Qianpai, Lianzhou, Lingmen, Yangxi for the wind farm. The main tasks include field work, flight line design, data acquisition, laser point cloud fine classification and production of 1:2000 DEM, DOM, DLG as well as other digital products.
♦

Flight line Design
Flight line Layout for the Wind Farm
♦

Data Collection

Site Work Flight Trajectory
♦

Data Processing

Raw Data of Laser Point Cloud Digital Elevation Model (DEM)


Digital Ortho photo Map (DOM) Digital Line Graphic (DLG)
►

Case:

500 KV Qinzhou and Fangcheng Port power plants in Guangxi
Our company delivered laser data and digital images as well as production of 1:2000 DEM, DOM and other digital products for 500 KV Qinzhou and Fangcheng Port power plants in Guangxi. The 500 KV substations and its power delivery project will further improve the regional power grid structure with higher quality and reliability of power supply. It better meets the electricity demand for local development and serves the regional economic development.
♦

Flight Line Design

♦

Data Collection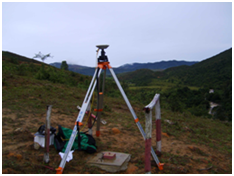 Ground GPS Station
♦

Data Processing

3D Laser point cloud Digital Surface Model
Digital Elevation Model(DEM) Digital Ortho photo Map (DOM)
After the submission of the project results, customer carried out accuracy inspection of the DEM. The accuracy of the results and all deliverables met requirements and we are highly evaluated by the client. Hence the project acceptance has completed.